FRED HARDING: Author and Award Winning Software Developer
My name is Fred Harding and I welcome you to my website and blog. I am an Amazon #1 best-selling author (Nephilim Skeletons Found), a historian, computer geek and an investigator who dares to go where others fear to tread as you will see from of the subjects of the books I have written.
My books are controversial I admit but the are all founded on facts not fiction and are meticulously researched with copious references. One Amazon reviewer R. Wolfe from Philadelphia, PA observed this when reviewing a couple of my books.
Harding specializes in addressing Biblical, archeological, and other scientific topics that fall into a realm that probably seems at once obscure and arcane to many (or possibly settled and not in need of review) but are in fact polarizing and completely central to the worldview and life-directing philosophy of many others (and completely in need of review or clarification). Often, Mr. Harding directs his efforts at pushing head-on into some topic that others would never dare to approach and from angles that are often unforeseen, bolstering what are often minority or non-mainstream theories or viewpoints with mountainous references, cold logic boldly proclaimed, and multiple reinforcements which are quite convincing and cannot leave the reader with an unambiguous result.
The Apocalypse Deception (11 December 2016)

Harding excels at picking some oblique, unexpected and out-of-the-box approach to a topic of interest and effectively ferreting out a truth that will undoubtedly be at least a bit controversial but incontrovertibly well-thought out and researched. Harding rarely lands you on a mainstream explanation, and the idea that the priestly garb worn in the Holy of Holies was effectively a large, wearable radio antenna is certainly some out-of-the box thinking. But, backed up as thoroughly as can be.
God's Electronic Communicator (15 December 2017)
Click on any book on the rolling books above to go straight to that particular book, or go to the menu and select "My Books" for list of books and choose one for more information.
MY SOFTWARE
I am also an Award Winning Software Developer and you will find some fantastic software products which I have written which you can download. Kindle Writer, for example, has helped over 200 authors to get their books published on Amazon and the latest incarnation is absolutely

FREE

. Then there is Knowledge Writer, the ultimate research tool and ideas processor, for students, authors and professionals alike. It includes powerful 256 bit key Twofish Emcryption for sensitive documents which can also be used for encrypting email text too. You can try it out absolutely free for 30-days with no obligation to buy.
LATEST BOOKS PUBLISHED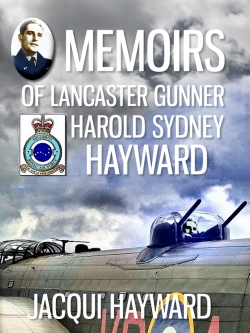 Memoirs of Lancaster Gunner Harold Sydney Hayward
(Published August 2019)
I would like to encourage you to read my uncle's Memoirs of Lancaster Gunner Harold Sydney Hayward. He was a Lancaster Gunner in WWII and after his death in 2000, his daughter Jacqui gained access to notes that her mother had put together over their married years. From these, together with hiring a historian researcher and my help, she has put together the story of how her father came to be a gunner in a Lancaster bomber, the bombing raids he was involved in, and the horrors of being shot down over Cologne and his imprisonment in a Stalag prisoner war camp. It makes gripping reading and is an important document which preserves the heroism and sacrifice of so many young men in Bomber Command.