SRI LANKAN STATISTICS
Here is a link so you can check the current COVID-19 statistics for Sri Lanka yourself.
COVID-19 Coronavirus statistics for Sri Lanka



SRI LANKA NEWS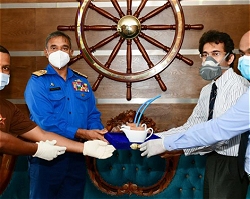 Inhaler devices invented by Surgeon donated to Navy
(Daily News Sri Lanka, 1 May 2020)

Inhaler devices invented by Surgeon Charith Nanayakkara, donated to Navy
(Sri Lanka Navy Website, 1 May 2020)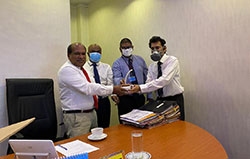 Dankotuwa Porcelain Manufactures Customized Steam Inhalers fit for use at Homes and Healthcare Establishments
(The Island, 10 April 2020)



SRI LANKAN NEWS VIDEOS
In assistance to the Navyís effort to control the spread of coronavirus in the country, another stock of inhaler devices invented by Surgeon Charith Nanayakkara, a lecturer in General Sir John Kothalawala Defence University, were donated to the Navy at the Naval Headquarters, today (1st May 2020).
A TREATMENT THAT STOPPED COVID-19 DEATHS - DEAD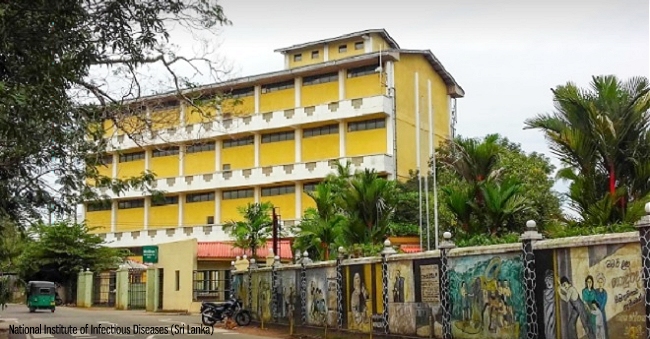 ***PRESS RELEASE ***
Something amazing is happening in Sri Lanka. For over a month there have been no deaths since the use of a simple device that was introduced into Sri Lankan hospitals on the 8th April 2020. No other country in the world can boast such a statistic. So what is it that the Sri Lankans are doing which the rest of the world is not?
All the hospitals in Sri Lanka are treating COVID-19 patients with a steam inhalation device which a leading doctor in the country designed. His name is Dr. Charith Nanayakkara (MD, MBBS MRCS) of the Department of Surgery, Faculty of Medicine, Sir John Kothalawala Defence University, Sri Lanka. In cooperation with a major porcelain manufacturer, Damkotuwa Porcelain PLC, Dr. Nanayakkara introduced his steam inhalation device to all the hospitals in the country and it has also been adopted by the Sri Lanka Navy which has several programmes to control the spread of the coronavirus in the country and maintains a number of quarantine centres island-wide.
After initial trials at the National Institute of Infectious Diseases (IDH) which successfully treated over a hundred COVID-19 positive hospitalized patients, Dr. Amal Harsha de Silva, Deputy Director of the Ministry of Health & Indigenous Medical Services, accepted a donation of 500 units from Dankotuwa Porcelain PLC and Royal Fernwood Porcelain Ltd for use in hospitals in Sri Lanka treating COVID-19 patients the Ministry of Health & Indigenous Medical Services is the central government ministry of Sri Lanka responsible works very much like the NHS.
Trials at the National Institute of Infectious Diseases (IDH) had been so successful that Deputy Director General (Medical Services) Dr. Amal Harsha de Silver authorized its use for all hospitals in Sri Lanka with remarkable results. The first death occurred on Sunday 28 March and by the 8 April, within 12 days had climbed to seven. But then the deaths stopped and this coincided with the donation from Damkotuwa Porcelain PLC of 500 steam inhalers and their first use in the hospitals.
On 8 April there were 189 cases of coronavirus in Sri Lankan hospitals, so everyone was able to use one. Dr. Nanayakkara said to me on 23 April, "We also didnít report a single death during the last 12 days [11 April] although the cases were detected at a higher rate than during the initial period of the infection. In other words just 3 days after providing these inhalers at national level we haven't had a single death."
That is amazing. The fact that there has only been 7 deaths on an overcrowded island with a population of 21.67 million and cities heavily congested is truly remarkable. One can only conclude that the success of the steam inhalation treatment in the hospitals and it being used extensively at home by the island's population is clearly a significant factor in the low numbers of the disease and deaths in Sri Lanka.
A month later the situation had not changed. On the 10 May 2020 there have been no new deaths of patients who have been using the Dankotuwa inhalers. Not so for two women who arrived at a hospital, a 72-year old and a 52-year-old woman who were too critically ill to be given the steam inhalation treatment. One died on the 4th May and the other on the 5th May.
When I asked Dr.Nanayakkara on 7 May about the deaths of the two women he told me that they had arrived at the hospital in a critical condition and had been diagnosed late because, "we didnít know they had COVID-19 because they didnít come to the hospital with the symptoms to get checked which is what others are advised to do."
Dr. Nanayakkara says that ALL COVID-19 positive patients in the hospital use steam inhalation treatment at least three times a day and claims that "People who inhaled steam properly didnít even need to be admitted to the ICU."
So with a 100% success rate of no deaths in Sri Lanka using steam inhalation as a treatment, why is it that the World Health Organization have not recommended this treatment to all countries? That is something that needs to be addressed ASAP, don't you agree?
---
About the correspondants
Fred Harding is an investigative journalist historian and author of 12 books. He is also an award-winning software programmer having I received an award from the British Computer Society Awards in 2003, the Oscars of the computer industry for a software product he developed called (COSHH) Management System for a leading Health & Safety Consultancy in the UK. COSHH stands for Control of Substances Hazardous to Health and the knowledge he gained from developing the program enabled him to write books on cancer, particularly breast cancer, which has been cited in a number of peer-reviewed medical journals. The measures taken for the prevention of COVID-19 infection by the government such as the use of PPE (Personal Protective Equipment) and washing hands with hand sanitizer is based on COSHH standards.
Dr. Nanayakkara lectures at the Sir John Kothalawala Defence University, Kandawala, Sri Lanka and Clinical work is conducted at Department of Surgery/Neurosurgical Unit, University Hospital KDU, Werahera, Boralesgamuwa, Sri Lanka. He is the author of a number of peer-reviewed papers for various Neurosurgical publications, and 13 books on various topics such as cranial and spinal surgery and Cerebral Tumours.