FRED HARDING & TEKLINE PUBLISHING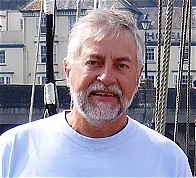 Welcome to my site. My name is Fred Harding and I moved to Barnstaple, Devon, England in October 2009 from Aylesbury, Buckinghamshire where I had lived for 26 years.
I bring with me to Devon many years of experience within the IT industry during which time I have been a Technical Director of a major PC manufacturer, I have won contracts in excess of £5 million to supply IT equipment and I have been involved in numerous board level IT projects. However, my preferred interest has been developing bespoke software and websites and over the years I have acquired a wide range of programming skills in these areas as Software Development Manager for a number of companies.
I am now self employed and Tekline Publishing is my business venture. Previously for twelve years I worked for Sypol Limited, a leading Safety and Environmental Consultancy. At Sypol I occupied the position of Software Development Manager and I headed a team of three programmers working on various software applications related to the Safety and Environmental sectors. I was not a pen pusher but was actively involved in developing software myself, as well as website and online e-learning products. I wrote their original award winning CMS (COSHH management System) and AMS (Asbestos Management System). For a number of years the Windows version of AMS was used extensively and it created assessment reports sometimes exceeding 500 pages. AMS online, a web based version was last program I exclusively wrote before leaving the company at the end of October 2009. I have also wrote an e-learning package for a Sypol client Transocean early in 2009.
Besides my technical working career, I am also an author and have written a number of books, two of which have been published in paperback, the others I am now uploading on another site www.teklinepublishing.com for you to read prior to publication. I have also written many articles and I am classified as an expert author at Ezine Articles, the home of some of the most passionate experts in hundreds of different niches from around the world.
I am also interested in history, religion, archaeology and social lifestyle activities, and my new non-fiction book "The Answer to All There Is" is a trilogy worthy of Tolkien and has been a lifetime's work. I have also written a selection of non-fiction books as shown below.

That then is a brief overview about me. Now that I am working for myself, I ask you support me in what I do. Although much of what I have published here is free, there are some software and services that I offer from which I earn an income. Let me put my skills to work for you and then both of us will be in a win, win situation. So welcome to my site and I hope you enjoy your visit.
Any feedback is always welcome. Thanks
Fred Harding
I WIN AN OSCAR
I have a confession to make! I have not won an Oscar because this is an award that is awarded to those in film industry for best actors, movie etc... and I am not in that industry. However, within the IT Industry there is an award that is no less as prestigeous. It is called the British Society Industry Awards for Information Technology innovation.
Established in 1957, the British Computer Society (BCS) is the leading body for those working in IT. With a world-wide membership now over 60,000 members in over 100 countries, BCS is the qualifying body for Chartered IT Professionals (CITP).
BCS was incorporated by Royal Charter in 1984. Its objects are to promote the study and practice of computing and to advance knowledge of and education in IT for the benefit of the public. The awards are given to those applying IT best practice to deliver tangible benefits to their organisations and their clients.
In the spring of 2003 two representatives of the BCS visited Sypol where I worked to do see what we do and to investigate if the COSHH Management system called CMS was worthy for being put forward for an award. Besides us, about 120 companies were investigated for the technology applications award, but only four would be chosed as finalists. As the software writer for CMS and the person who was liased with the investigators, I awaited with bated breath the outcome of their research. Then on 17th July 2003, a letter arrived. With shaking hand and heart thumping I read the letter ....
more »